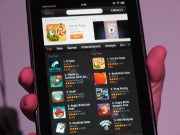 PCWorld is reporting that it appears there will be an 8.9-inch Kindle tablet in addition to the soon-to-ship 7-inch Kindle Fire.
"According to [Digitimes], panel suppliers Chunghwa Picture Tubes and LG Display have begun to prepare production capacities for 8.9-inch displays. However, there may be even larger models — between 9.7-inch and 10.1-inch — coming at some stage in 2012, possibly as part of a third wave."
This is interesting to me, as I had already decided to pass on the Kindle Fire, at least until a 3G or 4G model is available. If I could get mobile connectivity along with a larger screen, it would be just about impossible for me to resist, as long as the pricing is as competitive as the WiFi-only Kindle Fire
.